1. SUGAR
Many of us think of our sweet spots as an extension of ourselves. We might think, "I love dessert.  Why should my lady parts miss out on the fun?" Besides the potential for a sticky situation right out of a bad sex comedy, the reason why is that Candida albicans, the pesky infection-causing strain of yeast don't just love sugar— they thrive on it. While all healthy vaginas host a small amount of yeast, a PH-balanced environment usually controls the population.
 Putting anything with sucrose, glucose, fructose or lactose down there is like opening a buffet for them to gorge gourmet and any substance that ends in "ose" should be kept far away from your panties. Next time you and your honey feel like sweetening up your bedroom fun, do yourself a favor and save the whipped cream for your sundae.
2. WET SWIMWEAR AND CLOTHING
Remember when your mom would tell you not to sit around in that wet bathing suit?  It turns out she was worried about more than the furniture.  While any change in vaginal PH can bring on a yeast infection, excess moisture
and irritation can sometimes be the culprit.  That's why it's important to change into something dry (preferably cotton or moisture wicking) ASAP after you enjoy some beachy fun.  Along the same lines: as soon as you're done
working out, make sure to get out of those sweaty clothes so you don't have to take an itchy jog to the pharmacy.
3. "VAJAZZLES" & AND "VATTOOS"
Personal style is a beautiful thing but you may want to think twice before applying temporary inks and adhesive rhinestones to delicate areas. Vajazzling and vattooing are usually done right after a Brazilian wax, when your skin is more vulnerable to irritation and infection. And it's not just the mucous membranes of your girly parts that are extra sensitive — all the skin around your bikini area should be treated with care to prevent unpleasant skin reactions. WHEN you feel like redecorating your downstairs, try a cute new pair of panties instead.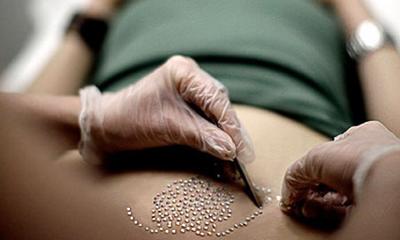 4.   SCALPELS
Temporary decorations can be potentially irritating but unnecessary renovations to your downstairs could have permanent consequences.  Plastic surgeries like labiaplasty (trimming labia minora to make them small and
symmetrical) and vaginal rejuvenation (surgical tightening of the vagina) come with risks.  The worst reported side effects are bleeding, infection, scarring and loss of sexual sensation. Truthfully, every woman's flower is unique and there's no prescribed way it's "supposed" to look. Try to embrace what makes you uniquely beautiful. Unless something about your anatomy is causing you physical discomfort – don't fix what isn't broken.
5. SKIN BLEACHING PRODUCTS
While many women are concerned over the size of their parts, some are more concerned about the color. There is actually a growing market for bleaching services and products for down there.  But buyer beware! Most skin lightening agents have an irritating product called hydroquinone  — and trust us, the last place you want to put that is near your most delicate spot.  This skin-stripping chemical is so damaging, it's banned in all countries except the US.  It's also reported to cause irreversible hyperpigmentation.
It's important for women to know that several factors affect the hue their sweet spots come in and variation is healthy and normal. Ethnicity, genetics and age are the three biggest factors that determine  your down-there pigmentation and it's actually common for the bikini area to be a little darker than the rest of your body.
 6.   NONOXYNOL-9
Nonoxynol-9 isn't just an ineffective birth control; it's one of the most irritating substances you can introduce to your sweetspot. This chemical is a surfactant, meaning it destroys sperm by disturbing cell membranes. Now just imagine what it does to your girly bits.  Ouch! Ouch! Ouch!
According to the World Health Organization, not only does nonoxynol-9 have a negligible effect on conceptions rates, it has been shown to increase the risk of HIV infection.  There are many safer, more effective contractive options—speak to your OBGYN to find the one that's right for you.